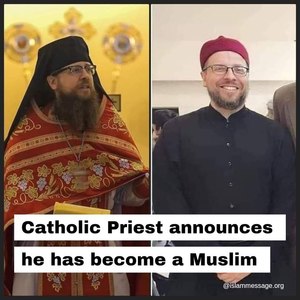 Father Pastor Hilarion Heagy


He became a Muslim and a believer
After the news of his conversion spread and the Christians announced their "deep sorrow."


The famous American pastor "Hilarion Higgie" says:


I had no other choice but "There is no god but Allah, Muhammad is the Messenger of Allah.


I had a promising prestige as a priest and I was well loved and well educated but my inner beliefs changed. "One cannot simply be a priest and monk in public, and a Muslim in particular."


The Qur'an states that we have worshiped God alone and submitted to Him since before we were born.


Islam is submission to the will of the Creator of Heaven.


This is the way of Christ, the way of Moses, and the way of Abraham "peace be upon them".


It is the way of the Prophet Muhammad (peace and blessings of Allaah be upon him).


In Islam: Surrender is not to your desires.


Nor to the desires of man, nor to the saints, nor to the angels.


Islam is surrender, to the one God.


The pre-Islamic name "Hilarion Hiji".


The name after Islam is "Saeed Abdullatif".


O Allah, make him steadfast in the truth, increase his knowledge, and benefit from it.


Do not forget him from the benefit of your prayers.