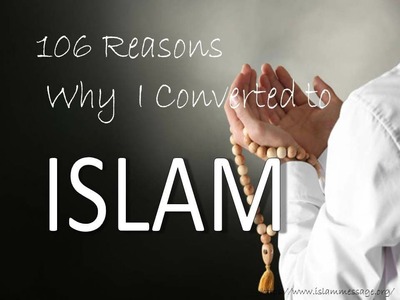 106 Reasons Why I Converted to Islam
1.ONENESS OF GOD:


I accepted the religion of Islam because Islam is the only religion on the face of earth which strongly believes and adheres to the concept of One True God. In Islam, the concept of one God is very clear and its whole foundation is based on Monotheism. –CRNELIO SABADO, ADAM, PHILIPPINE.
2.GOD HAS NO GOD:


In most of the regions I learnt and found that every god in these religions has another god above him. For example, Christians believe that Jesus is God, but Jesus himself had God who was superior to him. In Islam, God has neither father nor son and no one is superior to Him. – LUCY CHILUMBA, MARYAM, ZAMBIA.
3.ALLAH IS VERY IMPORTANT IN ISLAM:


The importance of Allah is much higher among Muslims than any other people to their gods. I found Muslims keeping Allah in their minds all the time. – NATALIA BRICICARI, NOORA, MOLDOVA.


4.ALLAH HEARS ME WHEN I CALL HIM:


On losing my job and being alone a my labour camp, I started asking Allah like Muslims do requesting Him to find a way for me as I was having problems back home. Within a week I got the chance to restart my work and earn money. – KANNAN KUPPU, SAMEER, INDIA.
5.ALLAH HAS NO IMAGE:


The first time I came to know that Allah has no image was when there was a visit to a Masjid for Non Muslims conducted by Islamic Affairs Dept. After hearing the explanation about Allah that He Is almighty, all knowing and All-powerful, I accepted Islam. – MANUEL PARRA, MOOSA, ITALY.
6.ALLAH'S BEAUTIFUL NAMES:


My friend explained to me about the beautiful names and attributes that Allah has, and also explained to me their meanings. Allah has all good qualities which are benefitting Him alone. Allah's being the Most Gracious and the Most Merciful brought me closer to Islam. – MARILYN GUNAO, LAILA, PHILIPINE.
7.WORSHIPING THE CREATOR NOT HIS CREATION:


I remember while sitting at the New Muslims Section, one of the Guides explained to me about the life of Prophet Abraham, who in the beginning worshiped the Star, Moon and Sun and at last he discovered that we should worship the Creator not His creation. – CHANDRIKA ABO, AYESHA, SRI LANKA.


8.WORSHIPING SO MANY GODS IN MY PREVIOUS RELIGION:


We were worshipping thousands of gods and we had different gods whom my parents and other family members were worshipping. From the beginning, I was not worshipping these gods. Once I came to Dubai, I stopped doing everything related to my religion and started believing in one true God and at last I found this concept in Islam. – ADARSH KUMAR, MUHAMMAD, INDIA.


9.ALLAH IS UNIVERSAL GOD:


In each region and place we have different gods, where as for Muslims, Allah is their God wherever they are. From Nepal to India, from Kashmir to KanyaKumari, you can list the names of our gods in thousands but for Muslims, they have one Universal God. – SANJANA SISODIYA, ASMA, INDIA.


10.GOD IS ONE IN COMMANDMENTS:


In 10 commandments of the Bible, it is mentioned that God is only One and we should worship Him alone but we do not follow these commands, whereas I found this concept very clearly only in Qur'an. – LEIMEN KAMWA, ABDUL RAHMAN, CAMEROON.


11.NOT WORSHIPPING MARY:


We worship Mary and my mother is very devoted to mother Mary, whereas it is not mentioned anywhere in the Holy Bible to worship her. While reading about Mother Mary in Islamic Books, I got precise information about her and I accepted Islam. – ALVA PAGADUAN, ZEENATH, PHILIPPINE.
12.JESUS WAS NOT SON OF GOD:


My study of Christianity through the Holy Bible and another books led me to believe and know that Jesus was not the son of God. In fact the term 'SON' is used for other prophets and pious men of God in the holy Bible, that mean Jesus is not only Son of God. – PAUL MARTIN, ABDUL RAHMAN, AUSTRALIA.


13.JESUS WAS JUST A PROPHET:


The concept of Jesus being a prophet is very clear and logical, as several times in the Bible it is mentioned that he was a prophet of God. The Holy Quran provides clear evidence that Jesus was neither god nor son of God; rather he was a prophet and messenger of God. – RYNO FOURIE, RAYYAN, SOUTH AFRICA.


14.JESUS NEVER SAID HE IS GOD:


It was shocking for me to know that Jesus had never stated in the Bible that he is God. This made me question my belief that Jesus is God, so I started reading about him till I reached the point that he is not God. MADELANE LUCIDO TATO, ADILA, PHILIPPINE.


15.BIBLE LED ME TO ISLAM:


Yes of course, after reading the Bible I accepted Islam. In fact the Bible helped me correct my beliefs and I read further about Islam. Thus I embraced Islam. – JOSEPH GRIFFIN, MUHAMMAD JAMEEL, UNITED KINGDOM.
16.LIFE OF PROPHET MUHAMMED(PEACE BE UPON HIM):


The Islamic Affair Dept had conducted a Quiz Competition on Prophet Muhammad (peace be upon him) by the title "IF YOU KNOW HIM YOU WILL LOVE HIM" and had announced exciting prizes for the winner. To get the reward I spent day and night reading the book about the Prophet and surprisingly I was the winner (got 1st prize). After some days I started reading more books about Prophet Muhammad and embraced Islam. – CATHERINE DE VILLA, KHULSUM, PHILIPPINE.


17.PROPHET MUHAMMAD'S (PEACE BE UPON HIM) MERCY:


The Prophet's immense mercy towards human beings (especially slaves and women), animals, environment etc. were the main reasons for me to accept the truth brought by Prophet Muhammad (peace be upon him). – JOCHEN PFISTERER, YASIN, GERMANY


18.PROPHET'S CHARACTER:


I read many books on prophet Muhammad (peace be upon him) and found that his character was very placid and perfect as he was famous even among his enemies as Al Sadiq (the Truthful) and Al Ameen (the Trustworthy). – JORJ NABIL, ABDULLAH, EGYPT.


19.WHAT PEOPLE SAY ABOUT MUHAMMAD(S.A.W):


Reading a famous book themed "What Great people say about Muhammad", a collection of sayings of great personalities like GerogeBernade Shaw, M.K.Gandhietc, about Muhammad (peace be upon him) not only helped me in understanding the prophet's life but also helped me in accepting the message brought by him and in following the path he showed us. DALE PROPP, ABU BAKR, CANADA.
20.THE 100 A RANKING OF THE MOST INFLUENTIAL PERSONS IN HISTORY BOOK BY MICHAEL H. HART:


Once I came to know that in Michael Hart's famous book, prohet Muhammad's name is mentioned in the top list, I got a copy of it from an international airport free zone and started reading about him and I read some other books on the life of the Prophet and accepted Islam. – GONZALO GARCIA, MUHAMMAD SAUOOD, AMERICA.
21.MUSLIMS FOLLOW MUHAMMAD(S.A.W)IN THEIR DAILY LIVES:


I was staying in a shared accommodation and had a Muslim room mates with me. I saw that they are always inspired about the life style of Muhammad (peace be upon him) and were following him accordingly. From keeping a beard to entering home, looking at mirror etc.,helped me to follow the same way of Muhammad as Muslims do. – RAJASEKHARAN NAIR, ABDULLAH, INDIA.


22.ISLAM'S ACCEPTANCE OF ALL THE PROPHETS:


I was surprised once I came to know that Muslims believe in all the Messengers and Prophets of God mentioned in the Holy Bible like Abraham, Moses, David, Solomon, John and Jesus etc, and I had been informed that all the messengers and prophets were following one religion and brought one message. – GEOLGE ELIAS, ISHAQ, LEBANON.


23.THE FIVE PILLARS OF ISLAM:


Islam is perfect in its concept and in its practice. The Five Pillars of Islam is designed very perfectly and emphases on every part of our life like inner faith, physical acceptance, feeling hunger, helping needy and global brotherhood. – DALIA SABIANO, SARA, PHILIPPINE.


24.EASY CONCEPT OF ISLAM BELIEFS:


The first thing which I learnt about Islam was about six pillars of faith. Every pillar of faith is there in Biblical scripts. But I found these in Islam very organized and adequate. Once my class was over on the topic, I asked my teacher to make me Muslim. – DESILDA E. ESTEBAN, ZULIKHA, PHILIPPINE.


25.QURAN THE BOOK OF ALLAH:


In college time, I got chance to get a copy of the Holy from one of my friends which helped me to understand Islam very clearly. I kept hat copy of the Quran with me for long time and continued reading it frequently. Once I visited Dubai, I accepted Islam. – SONIA KHIACA, KHADIJA, INDIA.


26.QURAN RESPECTS JESUS:


I even had no knowledge that Muslims acknowledge Jesus, once I came to know that Muslims believe in Jesus, his name is mentioned in the Quran several time and it is obligated upon every Muslim to believe in him and respect him, I started reading the Holy Quran and I found that Quran respects Jesus and provides clear picture about his personality. - DENISH AMONE, IBRAHIM, UGANDA.


27.CHAPTER 'MARYAM' OF QURAN CHANGED MY LIFE:


Once I started reading chapter Maryam of the Quran, everything had become clear to me. All the details of Jesus & his mother Mary are mentioned very beautifully. And at the end of the chapter, there is a warning for those who after receiving the truth turn their back and do not accept the truth. - FERNANDO CABIDA, ADNAN, PHILIPPINE.
28.CHAPTER 'AL AHAD' OF QURAN MADE ME MUSLIM:


I participated in the Quiz Competition titled "Who will be the Champion?" conducted by Islamic Affairs Dept. In the booklet given for preparation, I had to read Chapter 'Al Ahad' which is essence of the Message on one true God and it gives the ultimate understanding of the concept of monotheism. After reading that chapter and understanding the message, I accepted Islam. – RCDERIC VENTEREZ, ABDUL HAKEEM, PHILIPPINE.


29.THE QURAN CANNOT BE CHANGED:


I was surprised to know that the Quran has not been changed throughout centuries and will not change until the Last Day, because Allah has promised to keep the Quran intact and thousands of Muslims have learnt the Quran by heart. - JOSEPH VIRTUCIO, YUSUF, PHILIPPINE.


30.DO NOT TOUCH THE QUR'AN:


In a Sharjah Shopping Centre, it was written that "Non Muslims are not allowed to touch the Qur'an". So I asked one of the Indian salesmen the reason behind it. He said, being a Arabic version, it is sacred and should be touched only while in ablution. Further, He promised me to provide one Quran with English translation and within a week he provided me the Quran in English. By going through the holy book, I accepted Islam and I informed the salesman. - KUNAL, ABDUL RAUF, INDIA.
31.PRAYER IN ISLAM:


For years I was observing Muslims while they were praying. I was often amazed by the way of worship devotion. No one asked me to accept Islam, through my observation of Muslims prayer, I accepted Islam. - JASON DULIS, MUBARAK, GERMANY.


32.UNITY IN PRAYER:


In the congregational prayer, there is no king or servant, rich or poor, white or black, first or second class, reserved or unreserved. All Muslims stand and pray shoulder to shoulder in the most disciplined manner and demonstrate unity in purpose and action, piety and humility before God and solidarity among Muslims. - TOUKPO, MUNEER, TOGO.
33.PRAYER WHEREVER THEY ARE:


While coming from Sharjah to Dubai at evening time, one of the taxi drivers stopped the taxi alongside the road and took his prayer mat, got down near Ansar Mall and started praying on the ground for about ten minutes, keeping all of us passengers waiting. In the beginning we though some technical problem happened to our car but later we came to know that the evening prayer should be performed on time. The driver's devotion and sincerity towards his religion made me read further about Islam. - SAMBANDHAMKALIMUTHU, HABEEB, INDIA.
34.PRAYER IS A MUST:


Whatever situation comes and wherever we were with our Muslim friends, they never missed their prayers. While playing cricket, they used to stop for prayer and while going to shopping centers, they would often leave us and go for pray. That brought curiosity within me and I started praying with them until I became Muslim. - SANDESH SHIRKE, ABDUL LATEEF, INDIA.
35.MUSLIMS PRAY FROM THEIR HEARTS:


We Christians do not pray from our hearts, it is just a routine for us while for Muslims; they perform their prayers very sincerely and go to Masjid to perform their prayers regularly. - VERONIKA TRYFONOVA, SAFIYA, UKRAINE.
36.FRIDAY PRAYER:


All Muslims gather together for Friday prayer. No one leaves this occasion and one of my friends left his job only because he was not allowed by the Hotel to go for Friday prayer. Friday prayer is important for all the Muslims. - DEVIR SAPKOTA, ABDULLAH, NEPAL.
37.HEARING ADHAN EVERY MORNING:


I was staying in Sharjah, I and my family use to hear Adhan every day. Word to word we listened to it. I even started hearing Adhan in my dreams. You may say only Adhan had made me to accept Islam. - KUMAR BASTIN, MUHAMMAD KUMAR, INDIA.
38.MASJID HAS NO IMAGE:


Along with twenty non Muslims like me were taken to Sheikh Zayd Masjid in Abu Dhabi by Islamic Affairs Dept. it was very spiritual journey. On the way to Abu Dhabi from Dubai, they explained to us about Muslims do not worship any idol, they don't keep any image inside the Masjid. A lady from Sheikh Zaydcentre explained very nicely to us about Masjid. Thus, I embraced Islam. – SZIDONIA BALINI, MARYAM FATIMA, ROMANIA.
39.MASJID WHAT IS INSIDE:


I am here in Dubai for quite a long time and had seen the minarets here and there in Dubai but had no chance to enter the Masjid. Once along with Sheikh Muhammad Foundation for Cultural Understanding I has visited Jumaira Masjid and got all the details of Masjid. Before I stepped out of the Masjid I accepted the truth. – DE WAELE TOM, DAWOOD, BELGUIM.


40.NIGHT PRAYER:


We are in labour accommodation staying with Muslims workers who is from Tamilnadu (India), used to get up at late night and perform his ablution and stand in prayer for long time. This way of worship was there regularly every night. My reason for embracing Islam is by seeing his devotion to almighty God. – SANTYANARAYANA, ALI, INDIA.


41.PRAYING BEFORE THEY SLEEP:


In Sharjah Jail, while I was there for six months, one of Muslim mate used to pray at night before going to sleep. He was doing so every night. I started questioning him and he gave me proper understanding of prayer and how to pray. Thus, I accepted Islam. – RAJESH M NAGU, ABDUL KAREEM, INDIA.


42.I STARTED CRYING ON MY FIRST PRAYER:


Even though I was not Muslim I had a chance to go to Masjid with my Muslim friends and I was asked to act as they are doing. It was my first prayer to Allah. In the beginning of the prayer, I started crying. After prayer I took Shahada in the Masjid itself. - HERNANDEZ, KAREMA, PHILIPPINE.


43.MONTH OF RAMADHAN:


Muslims wait for the onset of Ramadan, they fast during the month of Ramadan. They are very humble during these days and much more devoted to almighty God. I just thought of being a part of Muslims during this holy month and I accepted Islam. - ELIZABETH WANJING, SALWA, KENYA.


44.FASTING IN THE MONTH OF RAMADHAN:


We were working for ShekhaAmeeraHaya School as cleaners. During the month of Ramadan everyone is fasting. No eating food, nodrinking water, teachers and students all together. So we all decided to fast and be a part of teachers and students. In the beginning we continued fasting because of less work. But slowly, we could not spend any day without fasting. By the help of teachers and students later we accepted Islam. SELVI KIDNAN, SARA, SRI LANKA.


45.FASTING & FITNESS:


I have been told that fasting is not only spiritual devotion, rather fasting helps people to be fit and perfect. Fasting does not make person lose his health rather helps in being healthy. I started fasting and became close to Islam. ADRIANA MONICA, NADIA, ROMANIA.


46.I WAS FASTING BEFORE ISLAM:


Before accepting Islam, I was fasting from six years. My parents were very angry at me because of my fasting and they were afraid that I will accept Islam. It was during one of the months of Ramadan, I decided to accept Islam. - FLORDELZA NECOSIA AMEERA, PHILIPPINE.


47.THE FAST BREAKING:


Muslims break their fast during the month of Ramadan in affiliation and sincerity. Sitting together and breaking fast together on the hearing of Adhan is one of the best ways of showing brotherhood. My Muslim colleagues used to call me for Iftar while they were all together breaking their fast in our office. - IGOR BRAZDA, BILAL, CHIC.


48.MUSLIMS CELEBRATED EID:


As I used to call my Muslim friends for birthday parties and Dewali celebrations. My Muslim friends used to call me for Eid celebrations at their home. During Eid they had no dance, no singing, rather they go to pray, hug each other, visit relatives, help needy and show affection and enjoy gracefully every moment of Eid. SOBHNA VASC, SAJIDA, INDIA.


49.GIVING CHARITY IN EID:


Celebrating Eid means not only eating sweets, it was much more than that for Muslims. Specially giving is one of the best part of Eid. Giving money, giving food, giving clothes and visiting poor relatives and making them smile; Eid is all about celebration but for a good cause. MUNA REGMI, ASMA, NEPAL.


50.CONCEPT OF CHARITY IN ISLAM:


Muslims are very charitable and help poor and needy. Arab Muslims helped us after my father went into Coma and they paid the flat rent, school tuition fees and even they continually provided food items for us. Me and my mother accepted Islam because of their generosity and character. – RONALYN RAGOS, FATIMA, PHILIPPINE.


51.HELPING POOR PEOPLE:


I am from Tamilnadu, the only reason I accepted Islam is, Muslims manners towards poor and needy people. I am working for a Telecommunication Company and most of my friends are Muslims. They have a system in spending money for good causes. I saw them helping cleaners and security persons in our office whereas I never did that. That impressed me to know Islam and Muslims. – ARUMUGAM, YASIR, INDIA.


52.UNITY OF MUSLIMS IN HAJJ:


Unity of Muslims everywhere and especially during the Hajj is really amazing. Wether king or layman, black or white, rich or poor everyone wears white unstiched clothes to show simplicity, eternity and fraternity among themselves. I went through many books and videos on subject and accepted Islam. – JACQUELINE JONES, MARIA, UNITED KINDDOM.


53.I WANT TO GO TO MAKKAH:


I am from India and I was not Muslim while working in Dubai for 10 years. The only intention I have in this life is to go to Makkah. I have seen Kaaba in my dreams several times. I just want to die as Muslim and want to go to Makkah before I die. – CHATHELY DAVIS, MUHAMMAD ZAKRIYA, INDIA.
54.CHANGES IN PEOPLE WHO TO MAKKAH:


I have seen changes in Muslims once they come back from Hajj. My sponsor had gone to perform Hajj and came with clear heart. He apologized from us for any mistake he may did before going for Hajj and once he came back he was spiritually changed. Alhamdulillah, later, through him I accepted Islam. – BEATE VAN STADEN, ABDUL BASHEER, SOTH AFRICA.


55.CALLING ALLAHFOR HELP:


Muslims call Allah for help all the time. They remember him all the time. They take his name all the time. I kept on asking them meaning of expression like"AllahuAkber", "Subhanallah", Masha Allah" etc, which are praising Allah. Whenever I had some problems I started calling Allah and I was satisfied until I accepted Islam. - SEALAS MASIH GUL, KHALIFA, PAKISTAN.


56.I WAS ANSWERED:


My daughter was seriously ill in Sri Lanka, when I told my Madam, She asked me to make supplication to Allah, and He will definitely cure your daughter. So I started praying to Allah and asked help for my daughter. Very soon, my daughter got cured. And I asked my Madam to make me Muslim.–RASIKA KUMAYI, FATIMA, SRI LANKA.


57.BE GOOD TO NON MUSLIM PARENTS:


I was interested in Islam but not willing to accept it only because of my parents as I love them, take care of them and I was the only bread-winner for them. Once while having discussion about Islam, a preacher of Islam told me that Islam orders us to be kind and helpful to the parents even if they are Non-Muslims. After knowing that, I accepted Islam. – MARYLOU M. DANAO, MARYAM, PHILIPPINE.


58.BROTHERHOOD IN ISLAM:


I am really surprised by seeing the brotherhood system that Muslims have. They consider other Muslims as their brothers and sometime more than that. They care for each other and demonstrate brotherhood in every aspect of life. – WANG YINGYING. AALIA, CHINA.


59.SOCIAL ACTIVITIES:


Year 2009, there was an aid collection in Trade Centre for Palestinian people. I also volunteered as much as possible. Many women from different nationalities were there to provide help and aids. Among them Muslim women were very serious and active in volunteering. So I started being with the throughout the campaign and had good time to understated Islam, which later led me to embrace Islam.– TANJA HASLER, HASNA, GERMANY.


60.TAKING CARE OF ELDERS:


I am from Ethiopia working as maid for an Arab family. I have seen my Madam and her Husband always there to care for their elders, even I saw them getting up at night to provide any assistance they needed. Being kind to their elders made me to be close to Islam.–ASTER GUDETA, AARIFA, ETHIOPIA.


61.MY HUSBAND:


My husband is Muslim and I was Catholic. We have two kids any my husband never forced me to accept Islam. I was regularly going to the Church while I was here in Dubai or in my going to Church. My husband never stopped me from going to Church. His Character towards his God, towards human beings, towards me and my kids changed me to accepted Islam. – NOVELYN CADERAO, AYESHA, PHILIPPINE.


62.CLEANLINESS IN ISLAM:


I understood Islam through an Egyptian RTA bus driver. He provided me most of the information about Islam namely praying five times a day, fasting and reading Quran etc. He told me that cleanliness is the topmost importance for all kinds of worship. Keeping oneself clean is part of the faith. – MEEME SHIMON, MUSTAFA, UGANDA.


63.WEARING WHITE CLOTHES:


Most of the Muslims around the world and especially Arabs wear white clothes very clean and tidy. Wearing white clothes shows humanity, brotherhood, equality and shows that they are away from pride and showoff. Now after embracing Islam, I started wearing only white clothes. – DARIUS MANALO, JAMEEL, PHILIPPINE.


64.EATING TOGETHER:


All Pakistani brothers in my accommodation were eating together in one big plate. Whenever we enter they ask us to join. In the beginning I felt unhygienic to eat in one plate, but later I discovered and informed that eating together builds brotherhood and compassion. – SRINU BANOTHH, AFTAB, INDIA.


65.WHY GARLIC IS NOT ALLOWED IN JAINISM:


We were following Jainism. In our religion it is not allowed to eat Garlic. In Dubai, a homeopathic doctorrecommended me to eat boiled Garlic as it is benefiting for heart disease. So I started questioning myself about not eating garlic in my religion and started reading books about various religions until I approached Muslim friends about Islam and I had satisfied answers about lawful and unlawful food in Islam and I became Muslims. – ANITA SUDAM, MARYAM, INDIA.


66.EATING NON VEGETERIAN:


Eating Non vegetarian is not allowed in our religion and we consider it as killing animals brutally. For my son who was 9 years old, doctor advised me to feed him beef every day for his development and coming out from his particular disease. It was difficult for me to cook such dishes, so I started getting it from Muslim friend who helped me not only in getting food rather helped me in understanding Islam and accepting it. –SRI NIDI, SRI NIDI, INDIA.


67.PROHIBITION OF PORK:


My reason of embracing Islam is Islam's prohibition of eating pork as I know that eating pork in Christianity is also not allowed, but most of us consume it. Once I came to know what Islam has prohibited eating pork, I stated reading about Islam which led me to accept it. – OSCAR BARRETTO, MUHAMMAD NASIR, PHILPPINE.
68.NO ADULTERY:


Those girls from Philippine, who became Muslims, do not wish to have boy friends and they always keep themselves away from unlawful sexual relationships, they do not mingle with boys and consider it unlawful. This attitude inspired me to know more about them and about Islam. – FRECILYN TENORIO, FATIMAH, PHILIPPINE.


69.ISLAMIC GREETINGS:


I am working in a bank, in our Office, frequently, all Muslims say Assalamualikum to each other. This was not new for me, but it helped me to know more about this greeting and I started asking them about it until I got answers about this greeting and about Islam. – LAURA CAMRGO, SAMEERA, COLOMBIA.


70.ISLAMIC GREETING MADE ME MUSLIM:


A Muslim man said salaam to me while I was working in construction area. I did not answer him,rather I told him that I am not Muslim. In reply, he asked me "Why you are note Muslim?" I could not answer him. Then he told me the meaning of" Asslamualikum" and briefed me about Islam. Therefore, I accepted Islam. – AKANJ CELESTINE, ISHAQ, CAMEROON.


71.WOMEN'S DIGNITY IN ISLAM:


I was surprised by seeing women in this country. Women's dignity is highly appreciated. Women get pro and support everywhere because off their gender and self-respect. Talking to them eye to eye is also considered as indecency. Women are more secure here in their dignity than in any other places of the world.– TANJA HASLER, SAFA HASLER, GERMANY.


72.WOMEN ARE RESPECTED IN MUSLIM SOCIETY:


In Muslim society women are highly respected. They have no responsibilities towards earning as men take charge of it. They stay at home most of the time they don't go out of their homes without reason. Be a mother, sister, wife or daughter, they are very respectful. – STOYANKA KATSARSKA, RUQAYYA, BELGIUM.


73.WHY MUSLIM WOMEN WEAR HIJAB:


I had visited Dubai during Dubai shopping Festival 2009 and while walking creek side of Al Seef Road, I visited one Traditional Tent where many Muslim women were explaining about UAE's tradition and all of them were wearing Hijab. My first question for them was about wearing Hijab for which they gave me logical and moral reasons to wear it. There I received some books and by going through I accepted Islam. – CRISTINA POPESCU, HAJRA, ROMANIA.


74.NO SHAKING HANDS WITH WOMEN:


I had visited Islamic affairs Dept. with my friend who wanted to accept Islam. The preacher at Islamic affairs started preaching me as well about Islam for which I denied. Once the session got over, I forward my hand towards the preacher to shake hand for which he denied and said that we don't shake hands with women his denying mode me furious and I told him 'if you shake my hand I will accept Islam and not accept Islam. By hearing my statement, he asked me to sit back and explained me every aspect of Islam and I accepted Islam in same sitting. – LEVI GUANZON, AYESHA, PHILIPPINE.


75.WEARING HIJAB:


I stayed in combined accommodation with few Filipino new Muslim girls when I came to Dubai and tourist visa. They were wearing Hijab and going for their work. It looked very nice and more comfortable so I started wearing it by taking one from one of new Muslim Filipino girl. After some days I stared doing everything what they used to da as Muslims. Before my visit visa expired, I accepted Islam. – JERLYN QUICOY, HUDA, PHILIPPINE.


76.PEOPLE OF UAE:


I have been blessed to live and work in the UAE and have discovered the beauty of Islam from people around me. I have business dealings with the citizens of UAE from long time and I had not faced single problem from them. Citizens of UAE helped me to know more about Islam and provided useful books about it. – GREGORIS ANDREOU, LUQMAN. SIBERIA.


77.ARAB WOMEN:


I am from Sri Lanka working in a bank as cleaner. An Arab women who were working the same bank were dealing with me as I am one their sisters, while eating they were asking me to accompany them, they were greeting me while they come to office and wile going back home. I never felt any segregation from them. – SWARNALATHA, SARA, SRI LANKA.


78.FAMILY LIFE IN ISLAM:


My sister became Muslim and got married to a Muslim man and they are having very good family life. I visit them on every weekend and discuss religious matter with them. They answer me on everything about Islam. After seeing their family life I accepted Islam. – LIZEL GICA, MARYAM, PHILIPPINE.


79.TO HAVE A NEW LIFE:


I was looking for a life in which I should have inner peace and good manner. Al life without harming anyone, a life satisfied with what we have, a life totally devoted to almighty God. I found all these qualities in Islam and after accepting Islam I had a new life. – PELEKASO DJABULU, AMEEN, CONGO.


80.MUSLIM CULTURE:


Muslims have very rich culture wherever you go. Muslim cultural values do not go against their religious values. There is diversity in culture of Muslims in different nationalities but you will find uniformity in ethics and faith. – MAHESH BELLE, MUHAMMAD USMAN, INDIA.
81.I THOUGHT THAT MUSLIMS ARE TERRORISTS:


I have been thinking that Muslims are terrorists. I misunderstood that they always try to kill innocent people because their religion and their book teach them to do so. But being here in Dubai and spending lots of time with Muslim friends made me come out from this phobia. In fact, peace is the essence of Islam and Muslims in every aspect of life. - ANNA NAGULA, DHUHA, BELARUS
82.RULES AND REGULATIONS IN ISLAM:


Islam has so many rules and regulations for Muslims which make them to be good in their lives and practice accordingly. Whereas we do not have much rules and regulations upon us and we spend our life according to our own wishes and desires. By following some of the rules of Islam, I had constancy in my life and corrected my ways and accepted Islam.- YELENA BUKHARDINOVA, MARYAM, UZBEKISTAN.


83.MUSLIMS PRACTICE THEIR RELIGION:


I was born to an American Father and a Roman mother, when I came to Dubai I found People practicing Islam very seriously which led me to know more about Islam.- PALA HASEMAN, PALA HASEMAN, AMERICA.


84.ISLAMIC PROBIBITIONS:


First I was thinking why so many do's and don'ts in Islam. Don't do this, don't do that etc., but after being involved myself with Muslims, I realize that these thing help a person to have good life. I realized that keeping oneself away from prohibitions make the person perfect individually, socially, morally and medically. – MELIVIC OLANO, ZULIKHA, PHILIPPINE.


85.DRINKS ARE PROBIBITED IN ISLAM:


I belong to a Christian family and I am studding in Dubai based university my father drinks wine every day before sleep, he drinks a lot and behaves differently, shouting on each other and fighting for small things were common at our home which made me spend most of my time with a Muslim neighbor where I had complete calmness and beautiful atmosphere. It was that duration I studied Islam and I accepted it. – MASIH MAKHAN, ABDULLAH, INDIA.


86.CASTE SYSTEM IN MY RELIGION:


There is no caste system in Islam. Everyone is equal in Islam. We used to suffer from this caste system in our country. Upper cast people were abusing us all the times. We were not allowed to have any relationship with them. We were note even allowed to enter in the temple on particular days since upper cast people will be worshipping those days. Muslims do not have such system and they perform their prayers altogether. – KRISHNAMOORTHY, ABDUL JABBAR, INDIA.


87.MYTHOLOGY OF MY RELIGION & LOGIC OF ISLAM:


I am Hindu for 43 years and till today I could not understand my religion. Everything is unclear including gods whom we were worshipping stories and mythology is base of our religious whereas Islam is very logical and easy to understand.– POONAM SUHANI, NOORA, INDIA.


88.WHERE IS GOTAM BUDDAH NOW:


One of the preachers of Islam asked me a very serious question when I was discussing with him about Islam. While arguing about Gotam Buddha being a God, the preacher asked me "where is Gotam Buddha now?" He died'I answered him. The preacher asked me "Can a dead person originate and control the whole world? Can a dead person provide food for a living one? I could not answer him and at last I accepted the fact the Gotam Buddha is not God.– HARKA LAMA, SULIAMAN, NEPAL.
89.TRUST IN ISLAM:


I am Russian Business woman, I had forgotten my bag with full of Money in a taxi and I logged my complaint in Al Rifa Police station, Dubai. The Police asked to provide information about the trip and asked me to wait for some time. While I was providing the information, the taxi Driver came inside the station and gave the bag without missing anything. The Driver's Character and his honesty made me know more about Muslims and Islam and the police officer also helped me to understand the Islam. – VALENTINA IGNAT, VALENTINA IGNAT, RUSSIA.


90.MY FOREFATHERS WERE MUSLIMS:


I am Filipino. Once I came to know that my forefathers were Muslims and because of external influence we all became Christians, I started reading about my forefather's religion, me and my whole family accepted Islam. – ZACARIAS NATIVIDAD, NAVEED, PHILIPPINE.


91.LECTURES OF WEL KNOWN SPEAKERS:


I was keen in watching videos well known Islamic scholars Ahmed Deedath, Dr.ZakirNaik, Yusuf Estes Etc, those lectures helped me to find right way of Islam. Thus I embraced Islam and I make DVDs of these lectures and I distribute them among my non Muslims friends. – KARAN DIVATE, MUHAMMAD, INDIA.


92.BOOK" ILLUSTRATED GUIDE TO UNDERSTATING ISLAM":


One of my friends brought me the book "Illustrated Guide to understating Islam". This book gives us scientific and logical way of understating the religion of Islam with brief information about all important aspects of Islam. Before I concluded the book, I had planned to accept Islam and said Shadada. – CRNELIO SABADO, ADAM, PHILIPPINE.


93.BOOKS OF WE TOO LOVE JESUS CAMPAIGN:
I received a bag of booklet on my way to work from Metro Station and started reading them on the way and at my office. At night I felt once again to read those books and I did so before I went to sleep. By the Grace of almighty Allah very next day I accepted Islam. – ELENITA DUASO, JANNAH, PHILIPPINE.


94.ISLAMIC BOOKS:
I am a woman working in Medical field. Once on an invitation I participated in on Islamic program in that program I received some books on Islam and had given enough time every day to read them. These books helped me to be close to Islam and to accept it. – RAJPUT DIPAK, ZAINAB, INDIA.


95.ON THE BED OF SICKNESS:
As profession I am a nurse. I serve patients of different nationalities and different religious background s. I was surprised by a Muslim woman who had a car accident and was admitted in our hospital. She was after all these problems not crying no shouting not blaming she was just reading Quran and perfuming her prayers regularly even though she could not stand. I took care of her for a long duration and through her I accepted Islam. – JELYN PAGARIGAN, MARIA, PHILIPPINE.


96.MUSLIMS VISIT PATIENTS MORE THAN ANY OTHER PEOPLE OF ANY RELIGION:
If anyone from a Muslim family is admitted into the hospital so many members of this family and relatives visit him, greet him, pray for him and read some supplications on him whereas this kind of humbleness and closeness I rarely find from other religious people. While searching for the reason, I came to know many things about Islam and I accepted Islam. – ROSALINDA TAMONDONG, HAWWA, PHILIPPINE.


97.SICK BUT NOT SICK:
Muslim women take care of their modesty. They are always conscious about their hijab and dignity, even when they are sick. They do not expose the part of their body to unknown men even to doctors when they visit for treatment. Muslim women are the epitome of modesty. – ANALIZA AGINA, YASMEEN, PHILIPPINE.


98.BURYING SYSTEM IN ISLAM:
The system of burying the dead in Islam made me close to Islam. More than once, I got the chance to enter Muslims graveyard and witness burying the dead. It is amazing that Muslim respects the dead person and buries him in a very beautiful manner whereas in my religion, we just burn the dead person. – MALAICHAMY, AHMED ABDULLAH, INDIA.


99.WE HAVE TO ANSER TO GOD:
"We are answerable to God for everything that we do in this life" was my soon-to-be wife's answer when I tried to get close to her physically. She told me that Islam prohibits all sinful acts and we have to answer almighty God for everything we do. She never let me touch her before getting married and that inspired me to choose her religion, Islam. – SEBAASTIAN UR, AYYAN, PHILIPPINE.


100.CONCEPT OF LIFE AFTER DEATH:
Islamic concept of life after death is very practical and logical when compared to our concept of rebirth and reincarnation of souls. The Islamic view of being answerable to our faith and deeds after we die, makes us responsible person in this world and be mindful of God.– DEEPASHIKHA, NOOR, INDIA.


101.WANT TO DIE AS MUSLIM:
I am blood cancer patient and still am suffering from this, I know I won't be living long. So I want to die as Muslim and want have a good life after my death. – NERILANE PALIS, ASMA, PHILIPPINE.


102.I WANT TO ENTER PARADISE:
I want to accept Islam to enter Paradise. I have suffered a lot in this world and I have seen my parents also suffering. So I do not want to suffer in the hereafter. I just want to enter paradise by accepting Islam. – ALLA TYKHONOVYCH, FAHMIDA, UKRINE.


103.PARADISE IS ONLY FOR MUSLIMS:
While discussing about the matter of salvation, my friends told me 'that Paradise is only for Muslims, 'but he gave me very rational explanation saying that those who believe in One God and follow his commands will be called Muslim and they entitled to enter Paradise. – AMELIA BLANCO, MARYAM, SPAIN.


104.SAFETY FROM HELL FIRE:
I used to get burns while cooking and you can see my hands burned everywhere I had some inner fear regarding this, I thought at changing my flat. I discussed the matter to my Muslim neighbor who told me not to the home. So I did according to her advice and stated visiting her often and asking her many things. In these discussions, she explained me about the Hell fire and who will enter there so I accepted Islam to save myself from Hell Fire. – AMITA JAGASIA, LUBNA FATIMA, INDIA.


105.TO SAVE MY SELF FROM THE HELL FIRE:
I read about Islam and I read the verse which says that "They do blaspheme who say :"(Allah) is Christ the son of Mary."But said Christ: "O children of Israel! Worship Allah, my Lord and your Lord" whoever joins other Gods with Allah, Allah will forbid him the garden, and the Fire will be his abode. There will for the wrong dooers be no one help.5:72.


The hell fire I accepted Islam. – DAFFNE ALMEDA, MUNA, BRAZIL.


106.EVERYTHING IS BEAUTIFUL IN ISLAM:
I embraced Islam because; I believe that there is no God but Allah and that Mohammad is the messenger. Before, when I was Christian I always felt incomplete, I always felt like something was missing. I never believed trinity because it made no sense. So I started to look at other religions. Islam captured my heart; I found all the answers I was looking for about this life and the hereafter everything is beautiful in Islam. – EWANGA QRLANAU, ABDUL RAHMAN, CAMEROON.